completed 2012, Rovina
collaboration Aleš Herold
photo FOTES
The land on the edge of the village lies in a new, rambling development with a predominance of type houses.
The single-storey building on level ground offers economical living for a family of four, combining compact availability with quality materials and advanced technologies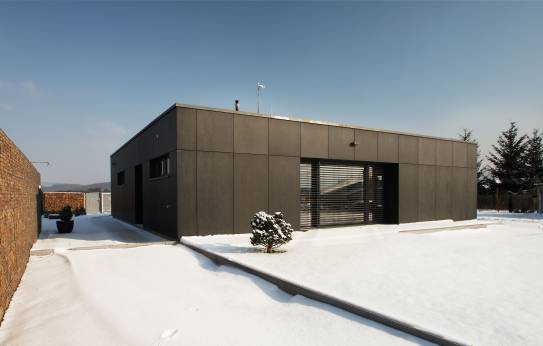 The large French windows in the main living space face the garden, south-east and south-west, their dimensions based on the format of the black fibreboard plates used for the facade cladding.
Along with thermal insulation of the perimeter ceramic masonry, the building's low-energy standard is also enhanced by outdoor blinds and a green roof.
More
The nearly square-plan house consists of a living room with a kitchen, three bedrooms with facilities and a garage.
Areas of all rooms and corridors are the minimum necessary, with built-in furniture elements also contributing to the efficient layout, partly replacing dividing walls.
More