in progress 2023, Lety u Písku
memorial author Terrra Florida
The goal was to design a pavilion that would merge in time with the surrounding landscape, which is the center of the monument. Not stand out, just serve.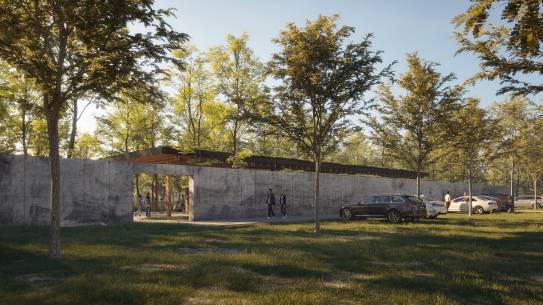 Wall
The main compositional element of the landscape solution becomes part of the architecture of the visitor center.
The structures that are attached to this wall are already conceived as lighter, so that they freely merge with the forest. This is why the wooden structure and large-format glazing were chosen in combination with a mirrored cladding.
More
Visitor centre is designed as a triple tract
The main hall-shaped tract is formed by the adjoining spaces of the outdoor portico, the entrance hall with refreshments, the exhibition space and the multi-function space for seminars.
The central tract consists of a service corridor with storage areas to which all the support rooms and facilities – toilets, utility room, warehouse, staff and office facilities – are connected. The operation of the house is designed to be able to be used in the season and, during the winter period, the toilets are still accessible to the public.
More