Family house, Prague Chuchle
not completed 2020, PragueChuchle
The generous villa in the Chuchle residential area opens to panoramic views of Prague.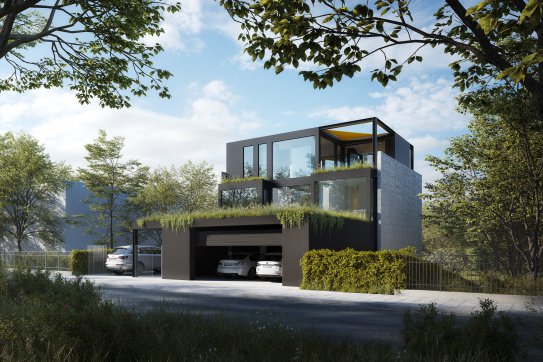 The approach to the property is from the south. Through large glass windows, the sun passes through a staircase further into the interior.
The garage is incorporated directly in the structure. On its roof, the intense greenery makes for another garden by the bathrooms and bedrooms.
More
Panorama of Prague
Despite the unfavourable orientation, a glass-fronted light rim coat was chosen for the northern facade. The unique panoramas of Prague were a clear impulse as to which way to go in the proposal.
Thanks to the good thermal-technical features of the facade, the house does not lose heat in winter and does not overheat in summer due to its northern orientation. The house is designed to be low-energy.
More