Family villa, Central Bohemia
in progress 2023, Central Bohemia
The house resembles a footbridge that rests in a half-turned position above the steep north slope.
The elevated position brings plenty of sunshine to the richly glass-walled single-storey block with living rooms, as well as a view of the Berounka valley.
The house is entered via an underground tunnel through the garage, which, like the guest room, is located at the foot of the property. The lift shaft is incorporated into the slab reinforced concrete base of the building, its walls also forming a swimming pool.
More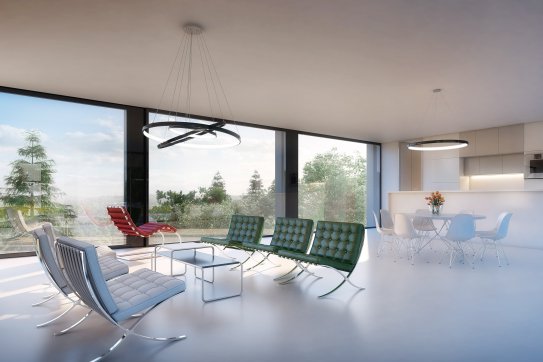 The interior in white colour connects the garden by a hanging south terrace.
A bedroom wing for children adjoins the living hall with kitchen and dining room from the southeast, and the master bedroom with bathroom and dressing room on the other side.
More