The project of Czech Houses (České domy) of teachers from the Faculty of Architecture of the CTU in Prague, Ján Stempel, Jan Jakub Tesař and Ondřej Beneš, addressed the Czech Centres abroad. The exhibition, which accompanies the same publication, was shown by the Czech Centre in Moscow, Budapest, London, Bristol, Prague, Zlín, Debrecena and Győri.
Moscow – 2014
The International Festival of Architecture and Design "Zodčestvo (Architektura) 2014," held in Moscow at the end of December 2014, was dedicated to the 100th anniversary of the Russian avant-garde. The Czech Houses exhibition at the festival presented Czech architecture through the attractive theme of family houses.
The selection of 33 family houses by renowned Czech architects, which were created in the period after the Velvet Revolution to the present day, illustrates both today's trends and the marked social change after 1989.
In the photo between Ondřej Beneš and Jan Tesař, prominent Russian theorist, architect and teacher Eugene Asse.
More
Budapest – 2015
After Moscow, visitors to Budapest's prestigious FUGA gallery in Budapest were able to see Czech houses. The exhibition was opened here by the acclaimed Hungarian architect Prof. Antal Puhl in the presence of the Czech consul and important figures of the Hungarian architectural scene.
The exhibition was completed by lectures by Prof. Ing. arch. Ján Stempel and Ing. arch. Jan Jakub Tesař at the Faculty of Architecture of the Technical University of Budapest.
More
London – 2015
In September 2015, the Czech Houses exhibition was on view in London, not far from Big Ben at the Star Gallery (European House). It was co-organised by the European Commission UK in addition to the Czech Centre London.
Adam Gebrian completed the opening ceremony with a guided tour. Along with Ákos Moravánszky of ETH Zurich and Eugene Asse of MARCH Moscow, he was one of the reviewers of the Czech Houses publication, and so, as a scholar of contemporary Czech creation, he made insider comments about the houses on display.
More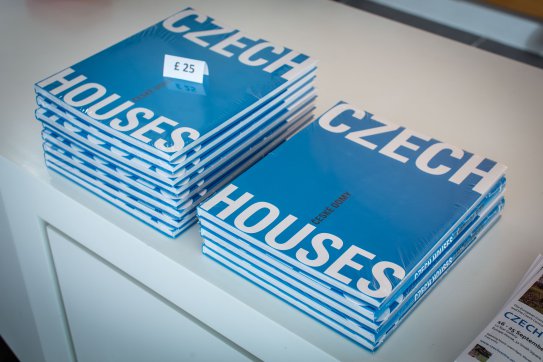 In the British Isles, the exhibition was also held during October 2015 at the University of Bristol. For local students and the professional public, the exhibition was accompanied by a lecture on Czech individual housing by Ing. arch. Jan Jakub Tesara.
Just before Christmas, the exhibition headed back to Hungary, where it was requested by the Debrecen Faculty of Architecture after its success at the Budapest FUGA Gallery.
More
Czech Houses London – 2015